Breathable and airy cap human hair wigs are a favored option for individuals seeking a natural and comfortable appearance while preserving their own hair. These wigs feature a cap that facilitates air circulation, ensuring a cool scalp and preventing excess sweat. In this blog post, we will explore the concept of breathable and airy human hair wigs, as well as the benefits they offer.

What are airy cap human hair wigs?

Airy cap human hair wigs are a type of wig that is made with a specially designed cap construction. The cap is lightweight and breathable, allowing for better airflow and ventilation. This makes the wig more comfortable to wear, especially in hot weather or for extended periods of time. The human hair used in airy cap wigs is sourced from real human hair. This gives the wig a more natural look and feel compared to synthetic wigs. Human hair wigs can be styled and treated just like natural hair, allowing for more versatility in terms of hairstyles.

Overall, airy cap human hair wigs provide a comfortable and natural-looking option for those looking to enhance their hairstyle or cover hair loss. They are popular among people with medical conditions, such as alopecia or undergoing chemotherapy, as well as those who simply want to change their look temporarily.

Features of breathable airy human hair wigs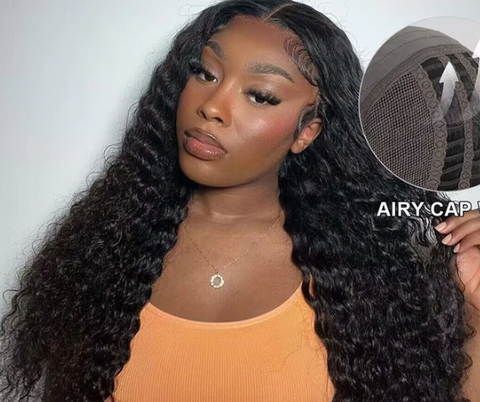 I. A natural look and feel

Breathable and airy human hair wigs offer a natural look and feel, as they are crafted from genuine human hair. They can be styled and trimmed just like your own hair, enabling you to experiment with various looks to suit your preferences and the occasion.

II. Protection

These wigs feature a breathable and airy cap construction, ensuring enhanced comfort, particularly in warm weather. The efficient air circulation helps prevent sweat buildup and scalp irritation, making them an ideal option for individuals with sensitive skin.

III. Durable

Compared to synthetic wigs, human hair wigs, including breathable and airy ones, are more resilient and long-lasting. They can endure heat styling and coloring, allowing for versatile customization. With appropriate care and maintenance, these wigs can retain their quality and lifespan for years, making them a valuable investment.

IV. Various styles

Breathable and airy human hair wigs offer versatility in styling options. Whether you prefer a sleek and straight look or a curly and voluminous style, these wigs can be easily transformed to suit your desired appearance. The ability to switch up your hairstyle without causing damage to your natural hair is a convenient and appealing advantage of using these wigs.

V. Enhance your self-assurance

Donning a breathable and airy human hair wig can boost your confidence and help you feel like yourself once again. Whether you are experiencing hair loss or simply desire a change in appearance, these wigs can enhance your self-assurance and make you feel like the best version of yourself.

VI. Sports-lovers

If you are a sports enthusiast in need of a wig, breathable and airy cap wigs are your ideal solution. Opting for a short-hair wig will ensure maximum convenience and performance, as these human hair wigs offer exceptional functionality even during rigorous physical activities.

Here are some tips for care and maintenance:

To maintain the optimal condition of your breathable and lightweight human hair wig, it is essential to provide it with regular and appropriate care.

Avoid subjecting your wig to high temperatures, such as those produced by hair dryers, curling irons, or straighteners. Excessive heat can harm the hair fibers and reduce the lifespan of the wig.

If you need to style your wig, apply a heat protectant spray and use a low heat setting on your styling tool. Prior to applying heat to the entire wig, test a small section first to ensure it can tolerate the heat.

In case your wig gets tangled, utilize a detangling spray or conditioner to assist in loosening the knots. Handle the wig with care and gentleness to prevent any harm to the hair fibers.

Exercise caution when brushing or combing the wig to avoid shedding or damaging the hair fibers. Use a wig brush or a wide-tooth comb, and begin from the ends, gradually working your way up to the roots.

To prevent tangling and damage, store your wig on a wig stand or in a breathable bag. Avoid storing it in direct sunlight or humid environments, as this may lead to mold or mildew growth.

If you intend to wear your wig daily, it is advisable to purchase a second wig to alternate with the first one. This will help prolong the lifespan of both wigs and maintain their fresh and new appearance.

If needed, consider having your wig professionally styled or trimmed. An experienced wig stylist can assist in achieving your desired look while minimizing damage to the hair fibers.

If you are facing hair loss or other scalp issues, it is recommended to consult with a dermatologist or hair specialist. They can provide guidance on the best treatment and care for your wig.

By adhering to these care and maintenance tips, you can help maintain the optimal appearance and texture of your breathable and airy human hair wig for an extended period of time.

Final thoughts

Breathable airy cap human hair wigs are an excellent option for individuals seeking a natural, comfortable, and versatile appearance. With proper care and maintenance, these wigs can provide years of use, allowing you to regain your self-confidence. Upretty Hair owns the best quality Airy cap wigs human hair in 10A, welcome for your orders.